Plant the Seed
There is a notion that true creative inspiration comes not from your active thinking mind but from your subconscious mind, and it's true. That's why you often hear people say their big idea came to them in the shower or while running. They turned off the creative tasking in their "front mind" but the rumination was still subconsciously active. If I'm searching for a creative spark for a particular project, first I'll plant the seed in my head. Whether it's the need for a great song, a particular angle or voice for a script, or a visual wow that can turn a mediocre project into a great one, I leave it in my brain to gestate. This is especially helpful if there are a few days built in before a brainstorm. Planting the seed that an upcoming idea is needed manifests an intuitive, cosmic magnet of sorts, which somehow results in the idea, song, or visual inspiration turning up on its own. In short, try to keep the "executive functions" of your brain from steering you creatively and let the uncensored free-flowing part take the wheel. David Lynch speaks philosophically and wondrously about this approach in his book, Catching the Big Fish.
Walk It Off
This part of the process dovetails with planting the seed, but focuses more on straight up clearing your head and letting thoughts pop off. It can be whatever mindless activity you choose, preferably something outside where fresh air adds an oxygen bonus. Walk the dog. Run. Chop wood. Grocery shop. I find this especially helpful for scriptwriting. Words and turns of phrases begin to tumble out. One will spark, two, then five.(While there are arguable downsides), the beauty of having a phone on you at all times is that those thoughts, phrases and nuggets immediately. Recently, I went on a 20 minute walk to stretch my legs and poke around at an idea. By the time I finished, I had three unique angels on an idea that had been eluding me.
Hit the Deck
I came across this fist-sized, little gem at a museum gift shop years ago. It's a deck of cards called The Creative Whack Pack. It looked silly at first, but I've wound up using these seemingly simple cards to shake off the rust more times than I can count. It's a deck of 80+ creative thinking strategies that will have you re-questioning and re-framing your assignment enough to approach it from an entirely new and clever direction that might not have occurred to you otherwise. It basically unlocks notions and options you were too stuck in a creative rut to get to in the first place. How does your problem smell? What if it were the size of a pea or the size of Pluto? How would you approach it then? Consider it bite-sized stories and nuggets for you to chew on that will give you a creative kick in the pants. And it's now available as an app; grab it!
Do you want things? I sure do. But you know who REALLY wants things and actually gets them? My three-year-old son, Everett. Here are some tricks I've learned from him that we can all apply at work (and at home too).
1. ASK FOR WHAT YOU WANT
I've been told – many times by someone I love and am married to – that no one can read my mind. I always think that people will notice that I'm doing a great job and that I'll get rewarded for it. But that's just not the case. People are busy! They are focused on putting out fires and sometimes can't see how great things are
going. So don't be shy about praising yourself and asking for what you want! They're not going to know unless you say it out loud.
2. PUT SOME SUGAR ON IT
It's rarely about what you ask for but how you ask it. Put yourself in their shoes. Would you rather do something for someone who asked nicely or someone who demanded something? So don't forget your good attitude and 'please' at the door!
3. TIMING IS EVERYTHING
We're in traffic, everyone is hungry, and work is blowing up. This is when my son decides it would be a good time to ask for that new Paw Patroller! Bad timing young man. When asking for what you want, take into account how business is going, how your boss is feeling, and if he/she has eaten. No one will say yes when they're #hangry.
4. GET READY FOR A 'NO'
I say no a lot because it's so much harder to say yes. A 'no' keeps the status quo whereas 'yes' means that person has to do something new. If you do get a 'no', be ready to spew some awesome facts about why you need and deserve what you want.
5. ASK AGAIN
Of all these tips, my son is the best at this one! People seem to have something more important to deal with than what you want – wah wah. In your initial ask, end the convo with: "When can I follow up with you about this?" It gives you permission to ask again. It'll be a great way to keep them account- able and an easy way to bring it back up when the time is right.
6. SCREAM AND HOLLA
Just kidding! Do NOT do this. And actually, this is the one that my son is really, really good at. However, if this has worked for you, please DM me and let me know how!
7. SHOW MASSIVE APPRECIATION
There is no greater satisfaction than seeing the pure joy on my son's face when he gets what he wants. And, I actually remember that reaction when he inevitably get what you want, show some extra gratitude. It'll only help pave the way for your next ask!
Dive In
Too often post-production creatives aren't consulted during the projects conception. It's not until you're in the edit suite that an editor gets to contribute. This can inadvertently cause us to be reactive rather than proactive. Whenever possible I request to be involved in the initial ideation phase. Contributing from the beginning will help you engage in a whole new way. Throw in some ideas for the visuals or propose a new way to tell the story. Some of my most creative and successful projects were the ones where I felt a sense of investment from the beginning. When you're fully able to catch the vision of a project at the start you're more likely to succeed. There will be times when the concept is locked in place before it gets to post-production, but don't let that cause you to just go through the motions. Think about how you can advance the client's concept. Suggest a unique edit style or add a visual effect and make it even beer than they originally envisioned. An unexpected sound effect or a unique cut can really set the project apart.
Try Something New
It is easy to get into a creative rut so be proactive and try something new. Whenever you start a new project set out to do something different than what you've done in the past. Look for a new effect, design, or editing style that you can implement. There are a lot of different ways to use a fade to or from black. Don't just slap on the default and resist just laying in a music track without cutting it up and switching it around to enhance
your story. Look around at the creative work other people are doing. Plan to spend some time each day looking at designs, videos, photography, or whatever gives you inspiration. Be intentional. Use other peoples work to get your creative juices pumping. You'll find shortcuts to Behance, Motionographer, Vimeo, and Instagram on my browser that I explore nearly every day. I often find inspiration from a single image, a video, or a movie trailer that I've seen. Strive to make every project original. You'll stay engrossed in what you're CREATING and your client will be pleased.
Work as a Team
Those dark edit rooms and quiet audio suites can be very isolating, but don't let that dictate how you work. Get up out of your chair and ask the opinion of others. Check with your colleagues if they have any suggestions or ideas on how to make your creation better. Talk through your challenges and acknowledge that other people have good ideas too. You don't  always have to implement every idea that another editor or designer suggests, but take into consideration their thoughts. My greatest ideas almost always come through collaboration. In my experience, the moment you think you have the most creative solution and others cannot help you is the moment you're beginning to lose your edge. Producers and writers, I also suggest you ask your designer, editor, or audio engineer how they feel about the project. Including others in some of the decision making can help push your creative over the top.

Premium automotive streaming service MotorTrend teamed up with Silver Spring, Maryland-based Trick & Mortar to develop the above campaign for the 10th season of MotorTrend's original series Roadkill, which features cars and the crashing of said cars.
To celebrate season 10, the team turned its headlights on some of the series' most iconic cars. MotorTrend Art Director Greg Colosimo partnered with Trick & Mortar's Garth Superville to create the promotion's fun graphic look, which they wove in with the live-action photography, while MotorTrend's Jeff Kent and Jeremy Seward cut together the video.
CREDITS
Client: MotorTrend
Head of Marketing: Kristene Turner
Director of Marketing Strategy: Nicole Canizales
Marketing Manager: Jamie Kim
Project Managers: Hannah Jacobson and Catherine Warner
Supervising Producer: Tom Heijne
Writer/Producer: Jeff Kent
Editor: Jeremy Seward
Art Director: Greg Colosimo
Designer: Matt Alesse
Production Manager: Camille Moore
Agency: Trick & Mortar
Creative Director: Jeff Strong
Art Director: Garth Superville
Director of Production: Anchi Laster
Production Coordinator: Maddie Ehrenreich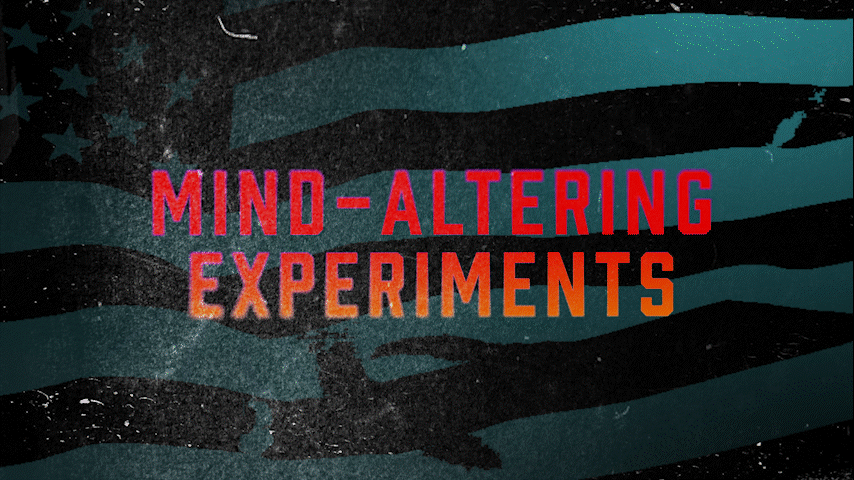 Bethesda, Md.-based creative agency Trick & Mortar conjured up LSD-infused motion graphics for Discovery Plus' documentary, Dr. Delirium and the Edgewood Experiments. The 80-minute special looked at experiments that the U.S. government conducted on soldiers in the 1960s.
Besides the trippy graphics, the spot combines strong editorial with archival footage and unique sound design to create an overall vibe.
Dr. Delirium and the Edgewood Experiments premiered June 9 on Discovery Plus.
CREDITS
Client: Discovery Plus
Executive Producers: John Slaughter, Igal Svet, Howard Swartz
Vice President, Creative and Production: Mary Clare Baquet
Director, Creative and Production: Gina Scarpulla
Producer: Amelia Fogarty
Associate Producer: Delaney McGowan
Agency: Trick & Mortar
Executive Producer: Footy
Chief Technical Officer: Dave Gorrie
VP of Production: AnChi Laster
Creative Director: Jeff Strong
Producer: Andy Scott
Production Manager: Maddie Ehrenreich
Art Director: Garth Superville
Designer: Eli Orth
Editor: Matt Askinazi
Sound Designer: Takoma Media – Richard Humphries