Outside of creative agency Tiny Hero's Burbank studios, a shiny Airstream trailer sits next to a red golf cart that regularly shuffles staff to the Disney lot. Dogs play in the grass as co-workers share a bite or a beer while chatting about their latest projects.
Inside, eclectic decor and secret passages such as a full gym hiding behind a bookcase gives Tiny Hero's campus a unique vibe that speaks to the company's culture.
"We try to create an atmosphere that makes our team want to be a Tiny Hero, everyday," said Tiny Hero President Ron Beck.
With just under 40 employees, Tiny Hero has been making a splash in the entertainment marketing award scene.
The agency has earned recognition from Promax for its work with such clients as Disney, Marvel, Pixar, Lucasfilm, Netflix, Amazon Prime Video, Apple TV+, Lionsgate and MGM.
Read more on THE DAILY BRIEF.
Disney and Warner Bros. topped the 22nd annual Golden Trailer Awards nominations, announced on Tuesday.
Disney picked up a massive haul of 85 nominations, which includes Walt Disney Motion Pictures, Disney+, National Geographic, Marvel Studios, ABC, Hulu and 20th Century Studios. In addition, it was represented by mentions of "Doctor Strange in the Multiverse of Madness," "Shang Chi and the Legend of the Ten Rings" and the Emmy-nominated docu-series "The Beatles: Get Back."
Warner Media, which includes HBO and HBO Max, landed 67 noms overall. It was represented by "The Batman," "King Richard," "The Matrix Resurrections" and the teaser trailer for the upcoming "House of the Dragon."
Apple TV+ was close behind with 50 noms, followed by Universal Pictures with 48, Netflix with 43 and Amazon with 32. Winners will be announced on Thursday, Oct 6, at The Orpheum Theatre in Los Angeles with NBC talk show personality Henry Cho hosting.
The top trailer houses included AV Squad, which includes AV Print with 39 noms, tracked by GrandSon with 37 and Tiny Hero with 29.
30 years after the release of Penny Marshall's 1992 film A League of Their Own, Prime Video's new drama inspired by that movie widens the lens of that original story.
The new series follows Carson (Abbi Jacobson) and Max (Chanté Adams) and a new cast of characters as they fight to do the thing they love – play baseball – no matter their race, color or creed.
The trailer, produced by Burbank, Calif.-based Tiny Hero, opens with editorial set to Benny Goodman's iconic "Sing Sing Sing" and introduces Carson and Max and their fight to get included in the All-American Girls Professional Baseball League. The second half of the three-minute trailer is cut to Tina Turner's "I Want To Take You Higher."
Read more on THE DAILY BRIEF.
She-Hulk: Attorney at Law is like nothing you've seen in the MCU before!
"This is expanding the definition of what a Marvel Studios production can be," Marvel Studios president Kevin Feige shares in ET's exclusive featurette from the upcoming Disney+ series. "There's something so surreal and so funny about a giant, 6'7″ Hulk in the courtroom."
She-Hulk stars Orphan Black standout Tatiana Maslany as the titular lawyer turned hero. When her character, attorney Jennifer Walters, accidentally gets cross-contaminated with the Hulk's blood, she finds she has more problems to contend with than just judges and juries.
Read more on ET.
Set to Stevie Nicks' "Edge of Seventeen" with only sound effects such as the crack of a bat to accompany the soundtrack, Amazon Studios and Sony Pictures Television on Tuesday debuted the first-look teaser for their upcoming TV-series adaptation of 1992 film A League of Their Own, starring and executive produced by Broad City's Abbie Jacobson.
The series "evokes the joyful spirit of Penny Marshall's beloved classic, while widening the lens to tell the story of an entire generation of women who dreamed of playing professional baseball," according to Prime Video. "The show takes a deeper look at race and sexuality, following the journey of a whole new ensemble of characters as they carve their own paths towards the field, both in the league and outside of it."
Read more on THE DAILY BRIEF: HOT SPOTS.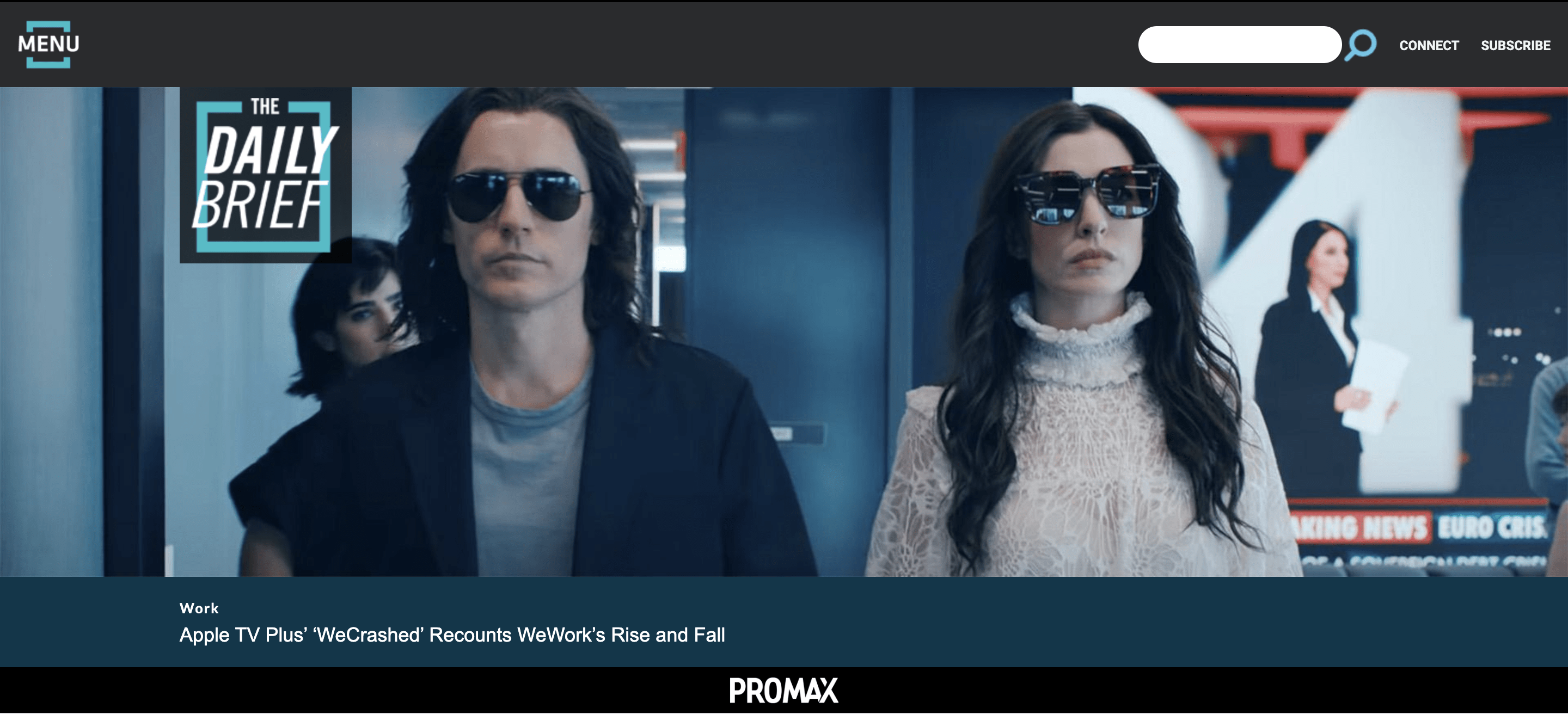 Jared Leto and Anne Hathaway ride a startup rollercoaster in Apple TV Plus' WeCrashed, in which the two Oscar winners play husband-and-wife entrepreneurs Adam and Rebekah Neumann at the center of the rise and fall of WeWork.
"Who wins in a fight? The smart guy or the crazy guy? Are you crazy enough?" asks one of WeWork's wealthy funders in the official trailer.
Based on the Wondery podcast, "WeCrashed: The Rise and Fall of WeWork," the eight-episode limited series follows the company as it grows from a single co-working space into a global brand worth $47 billion. Then, as it tried to go public, everything fell apart.
Studio City, Calif.-based creative agency Tiny Hero collaborated with Apple TV Plus to produce a taut and tense trailer, which follows the two leads as they build their dream together.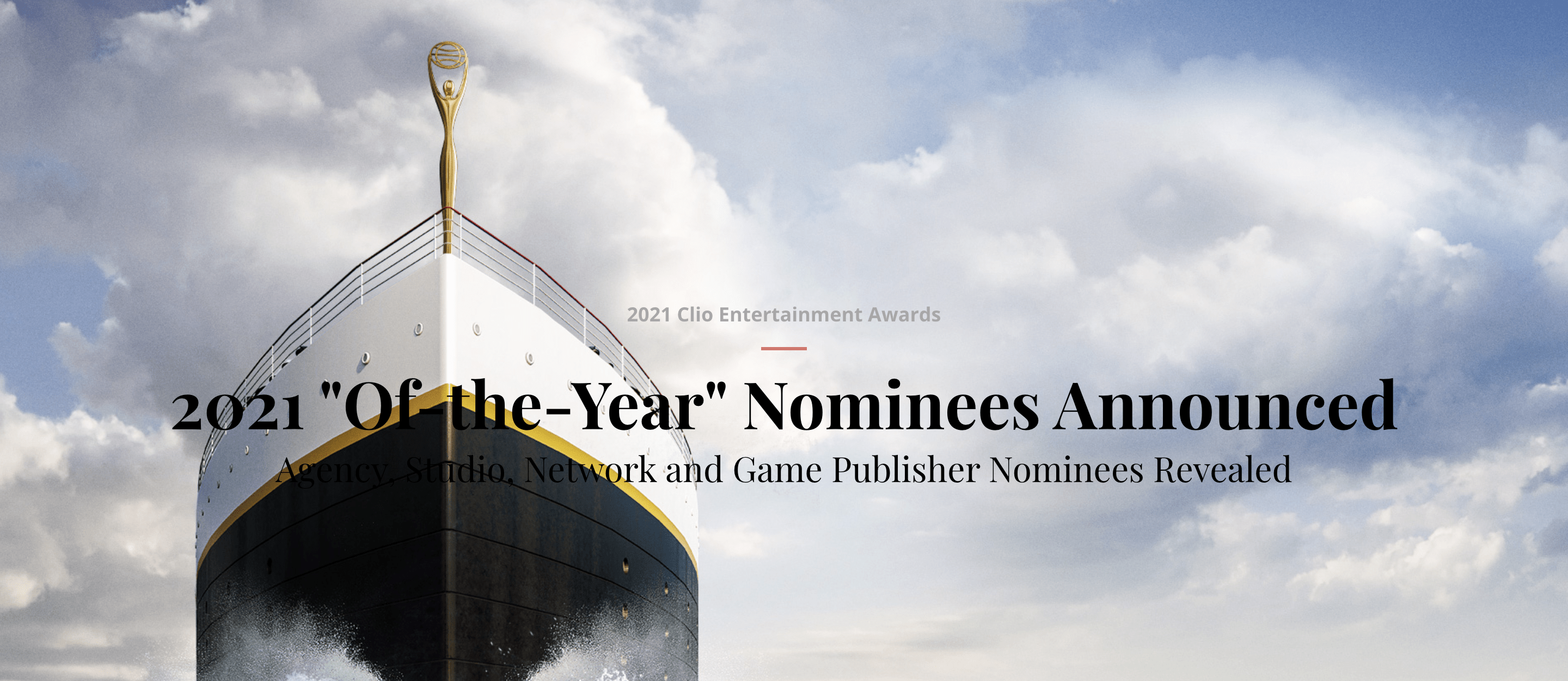 You're the King of the World!
We're pleased to announce the top nominees, in alphabetical order, for the "Of-the-Year" awards to be presented at the
Clio Entertainment 50th Anniversary Celebration
on December 14th at The Sunset Room:
Agency OTY Nominees
AV Squad
BOND
Buddha Jones
GrandSon
Tiny Hero
Trailer Park, Inc.
Game Publisher OTY Nominees
2K Games
Activision Blizzard
Epic Games
Microsoft Studios/Xbox
Sony Interactive Entertainment
Square Enix
Studio OTY Nominees
A24
Disney
Lionsgate
Netflix
Universal Pictures
Warner Bros. Pictures
Television/Streaming Network OTY Nominees
Amazon Prime Video
Disney+
FX
HBO
Hulu
Netflix
These awards will be presented on stage to the respective advertising agency, film studio, television/streaming network and game publisher that has received the most overall Clio Entertainment Statue points for winning entries submitted across all medium types.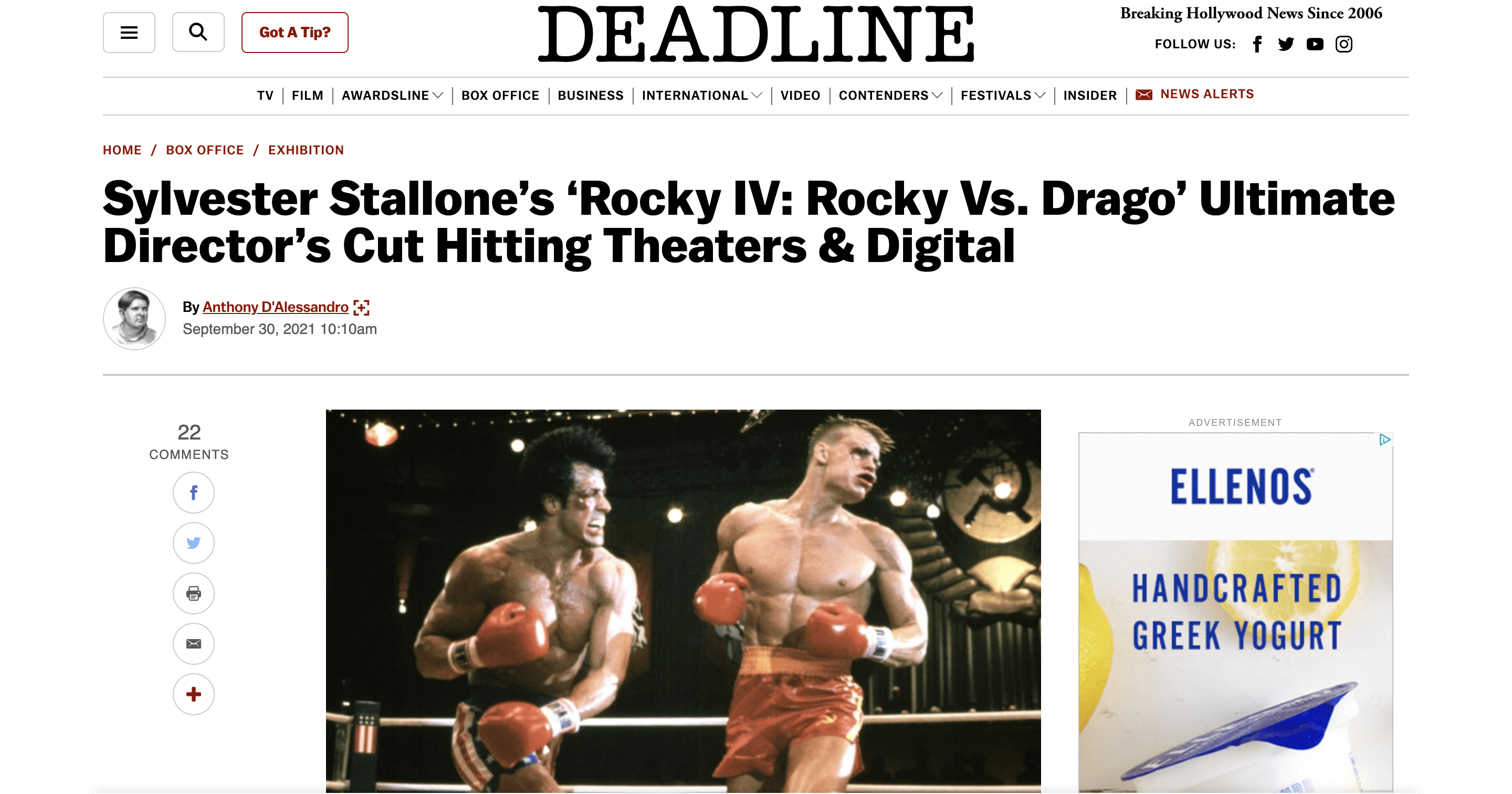 Sylvester Stallone has made an ultimate director's cut of Rocky IV, titled Rocky vs. Drago, that will hit theaters on Nov. 11 for an exclusive engagement via MGM and Fathom followed by the feature being available on-demand the next day.
Stallone has added 40 minutes of never-before-seen footage to the 1985 feature made during the U.S. Cold War with the Soviet Union, the movie having the Italian Stallion traveling to the USSR to defend his title again against Ivan Drago (Dolph Lundgren). Stallone wrote, directed and starred in the film, which grossed over $300M WW back in the day.
Watch a trailer for the director's cut below.