With Paramount Plus' 2,400 live soccer matches each year, soccer fans in the U.S. can watch from the moment they wake up in the morning until the moment they go to sleep at night. That's the message of a new campaign from customer experience agency Definition 6 (D6).
In the campaign's hero spot, "Rules of Attraction," an unseen but fast-talking fan rises at 6 a.m. after dreaming about lacing up their cleats for Liverpool. From there, the fan spins through the many matches available to watch, taking them to go as they play with their dog in the backyard, work out and have friends over to watch the games.
The spot concludes with the tagline: "The world's champions live here."
Paramount Plus has streaming rights to UEFA Champions League as well as Europa League, Concacaf, Argentine Primera Division, National Women's Soccer League, Serie A Matches, Campeonato Brasileirao Serie A and Scottish Professional Football League.
The campaign was creative directed by D6's Noah Lerner and Tim Reilly, under the leadership of Crystal Hall, senior vice president and creative director at D6.
"From brief to delivery, we were aligned on wanting to break the mold and to showcase a variety of Soccer stars fighting for championships on Paramount Plus," said Evan Harris, Paramount Plus Creative Director in a statement.
D6 ended up creating more than 60 deliverables with audio and video layers that blended and transitioned together seamlessly, integrating soccer clips culled from many hours of footage. D6 worked closely with Paramount Plus to identify key players, leagues, and moments from the world of soccer to bring to the forefront.
A key part of the hero spot is the quippy voiceover narration, which was penned by Reilly and sound-designed by Dan O'Sullivan to ensure every word could be heard clearly next to the ambiance of the gameplay.
"We wanted the VO to be snappy, not audio wallpaper," said Reilly, also in a statement. "The script concept was all about making the info almost overwhelming, but in a way that soccer fans could identify with and get excited about."
The final cut also includes a Spanish-language version.
D6's VFX and motion graphics team integrated the clips with moving type and iconography, using framing devices and rotoscoping techniques and augmenting all of it with flashes of Paramount-Plus blue.
"Paramount Plus is a game-changer in the streaming space," said Lerner. "It's not just their content that's premium; they put the same care and creativity into how they market and package their content."
Original Article Link Here.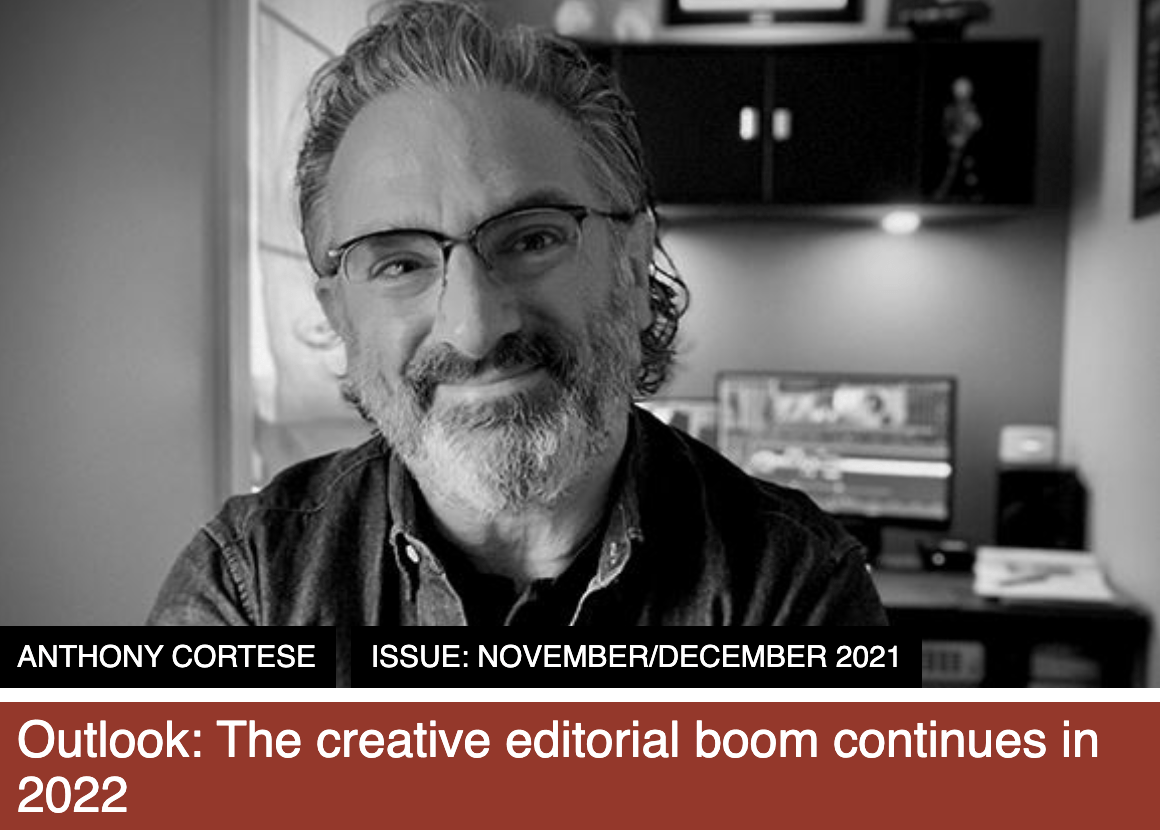 At the start of the COVID lockdown, surrounded by a fortress of all the G-Drives I could fit into an Uber when I fled my Manhattan office, the thought of more work than I could handle seemed impossible. Those early days were a test of faith for every editor in the world. With production shut down, broadcasts were littered with one Zoom chat after the next. And that meant not much that needed to be edited.
But a funny thing happened as the weeks turned into months, and months into the new normal. Viewers consumed a lot of content — like a lot! And they expected it all on-demand. That content still needed to be created, and we were ready to meet that demand head on — right from the edit rooms we had set up in our homes.
With so many outlets for viewers to visit, one inevitable result of this on-demand paradigm is that our clients have had to be much more clever in how they draw in and retain audiences. For example, there's been a huge surge in creating "shoulder content" (things like behind-the-scenes looks at the episode they just watched are wildly popular). It's added value, a way to keep the audience engaged — if you give them a BTS piece at the end, you're creating more fandom. Most of what we do as a company is content that's ancillary and supports the main event. It's marketing that doesn't feel like marketing, and becomes part of the bigger story.
Because of this explosion in viewing, however, client demand has also soared. It's a downside of the new look of collaboration; they know the edit bay is never far away, and some expect you to be at their beck and call. Since you've got more time to dedicate to work (what commute?), the output you're expected to produce has also increased. That said, when you consider the amount of work editors are putting out now, with no real perceived quality difference, it's clear the product has not suffered. Indeed, in some respects, it's gotten better.
Through it all, we've discovered that the way editors and clients collaborate is forever changed. We've become more independent. We've had to. When you were in the room with other humans, you got instant feedback. Now, you have to be more predictive as to how clients will react. When possible, clients will sit in on sessions remotely, but it's not the same. More often than not, we're left on our own to be the "preditors" the industry demands we be.
But when you think about collaboration, you also have to think about how it affects editors, their colleagues and their assistants. Certainly, some of the technical skill (and maybe some creative) will suffer because you can't ruminate over the edits. I've seen plenty of people who've worked well in those tight situations — their instincts are honed naturally. But unfortunately, I've also seen people who crumble in these same situations. They may have the chops, but they simply need time to think about their art.
I used to joke that being a good editor means being equal parts artist, tech support and therapist. One thing is certain: the next generation of editors will be very nimble when it comes to the technical demands of the job. They'll have to be! But collaboration and communication are skills that new editors will have to work a lot harder at to tell their story, since many of the nuances of a great creative partnership come from what happens face-to-face, in the real world.
Anthony Cortese is the VP of editorial at Definition 6 (Definition6.com).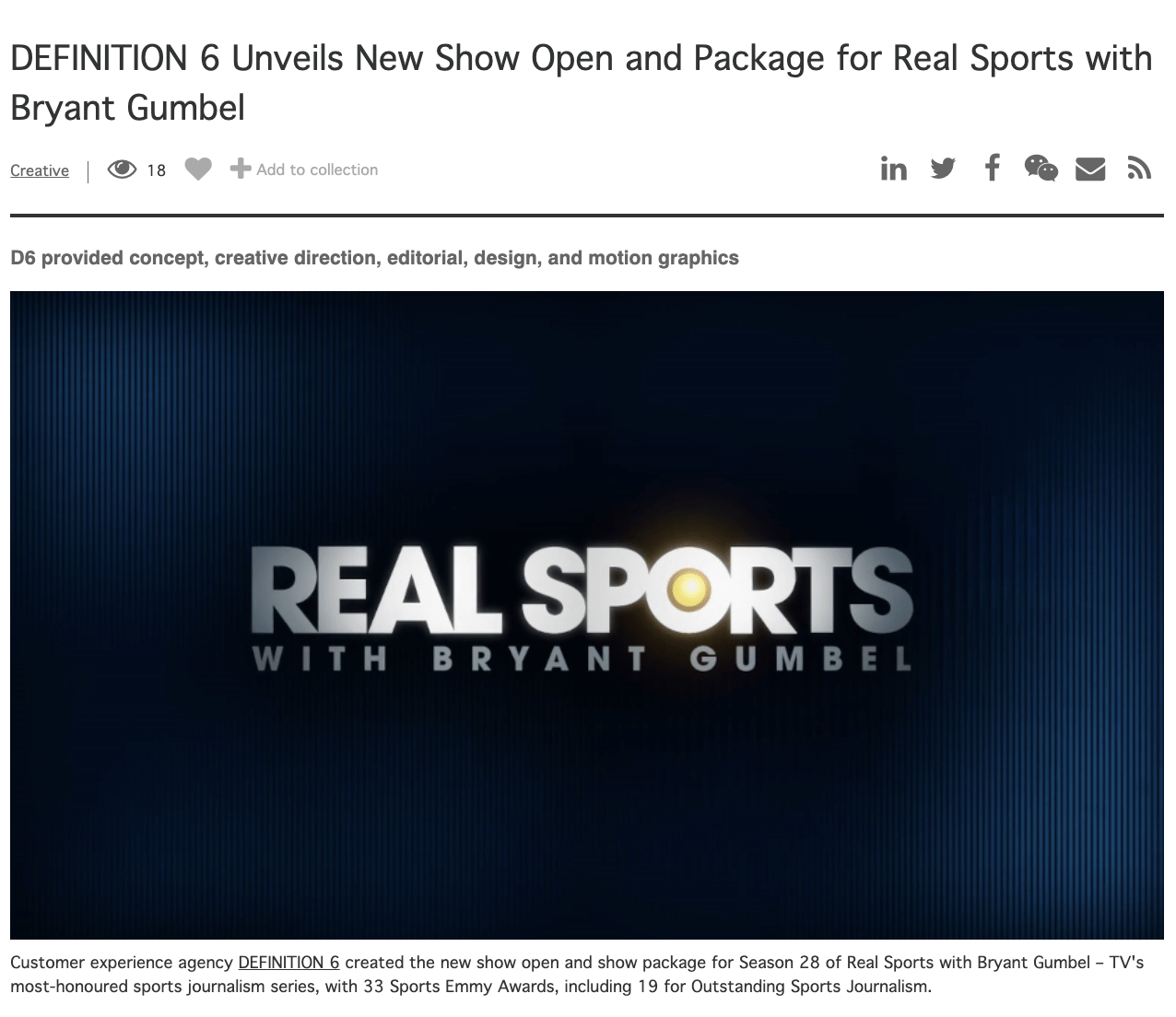 Led by VP of editorial Anthony J. Cortese and SVP/creative director Crystal Hall, D6 provided concept, creative direction, editorial, design, and motion graphics.
"We came to DEFINITION 6 with a very tall order – to create something modern, while leaning into the spirit of a 28-year-old journalistic identity," says Jordan Kronick, creative director of Real Sports. "We're extremely pleased with the result, and from executives and industry colleagues, the reviews have been overwhelmingly positive that the rebrand feels fresh, captivating, and elegant. So mission accomplished."
In putting these pillars into practice, D6 created a modular motion graphics sequence for the open. Bookended by hero footage from the show's most iconic stories spanning the sports spectrum, the middle section is reserved for HBO to highlight footage specific to each episode, with sound bites for all four lead stories, narrated by Bryant.
The video is framed by four vertical panels, which combine and transform in sundry arrangements before revealing the Real Sports logo. The same look can also be spotted in the Real Sports' newly re-designed set with the four-panel treatment filling on-set screens during host segments.
Targeting a younger audience, with evidence that the highest rates of engagement on social happens within the first five seconds, D6 leaned into its data insights team to inform the motion language and editorial pacing of the sequence.
"The package was minimal by design, but definitely not by strategy or execution," says Anthony. "The design needed to be seamless but also provide a user-friendly toolkit for the HBO team to reimagine with ease from episode to episode."
"The stories need to shine, so our design reinforced the story as the hero in all cases," adds Crystal.
The built-in challenge was shortening the existing open by nearly half, while creating a piece with a definite front, middle, and end. In addition to design, music pacing heavily dictated the transitions, both visually and tonally. Here, D6 worked with MassiveMusic, which rearranged and composed modern variations of the classic Real Sports theme song and involved a live string session in Amsterdam.
"In addition to the fully mixed scores MassiveMusic created, they also delivered countless stems of those sessions, which we organized into a music toolkit for HBO to be able to create a variety of remixes based on the tone of the material they are underscoring," concludes Anthony.
D6 also treated the iconic Real Sports mark, by shading HBO's classic dotted 'O,' with the same yellow from the HBO Max brand palette.
Original Article Link Here.  To watch the full-custom open, go to Real Sports with Bryant Gumbel on HBO Max.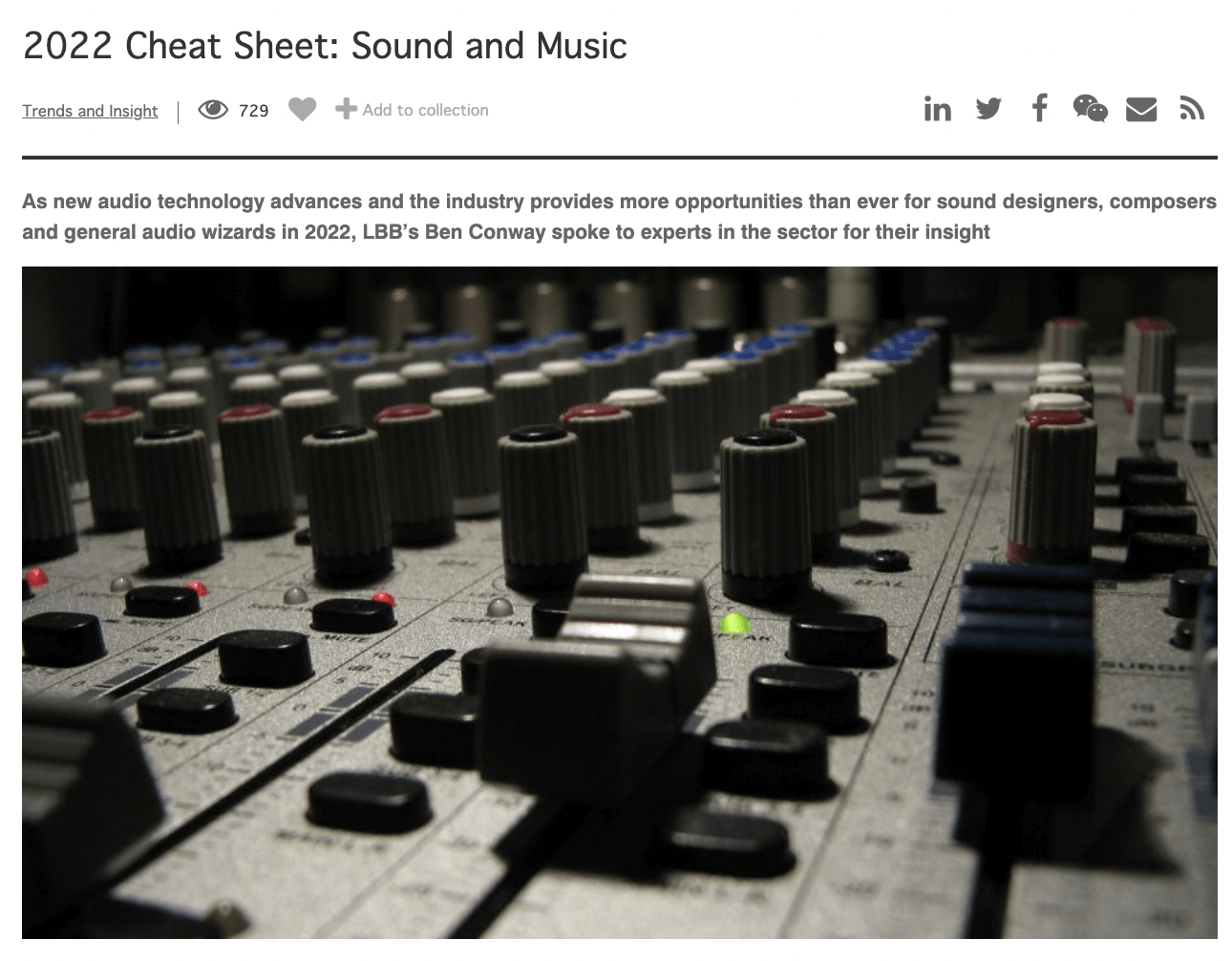 Dan O'Sullivan | VP of sound, DEFINITION 6
One thing is certain – the need and opportunity for immersive sound artists are growing at a rapid pace. Taking our existing skills as sound designers, mixers, and composers and adding several extra layers of tech is an exciting and fluid place to be. The already popular and increasing need for immersive sound content allows for more creative ways to captivate a listener, more ways to create a unique soundscape specific to a new world, and just as importantly, more ways to use our skill set to earn a living and help our clients tell striking and original stories. I'm also looking forward to the full return of live music and events. For instance, bringing my children to see a live orchestra, a real Broadway show, or a concert in the park. Watching them find their own treasures in the moment and feeding off the excitement of a crowd of fans moving to the rhythm. For me, observing how the online world and metaverse continue to find new and exciting ways to add value to these organic experiences is something I anticipate and use for inspiration.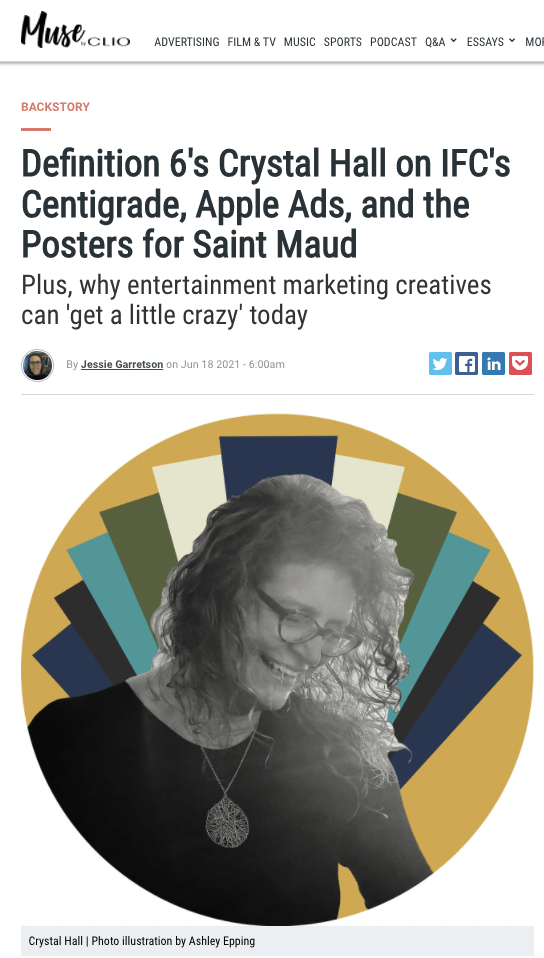 Crystal Hall, SVP/creative director at Definition 6, is an award-winning creative executive who has driven development for more than a dozen rebrands, digital experiences and cable channel relaunches, including Showtime, FX, The Movie Channel, Smithsonian Channel and truTV.
Prior to joining Definition 6, Hall founded and ran two creative agencies, Specter Hall and Spark+Sizzle. Before that, she spent 10 years as VP/creative director of network branding and design at Showtime Networks, where she led six network rebrands.
We spoke with Crystal for our Backstory series, where we chat with folks in the entertainment industry about their creative inspirations and more.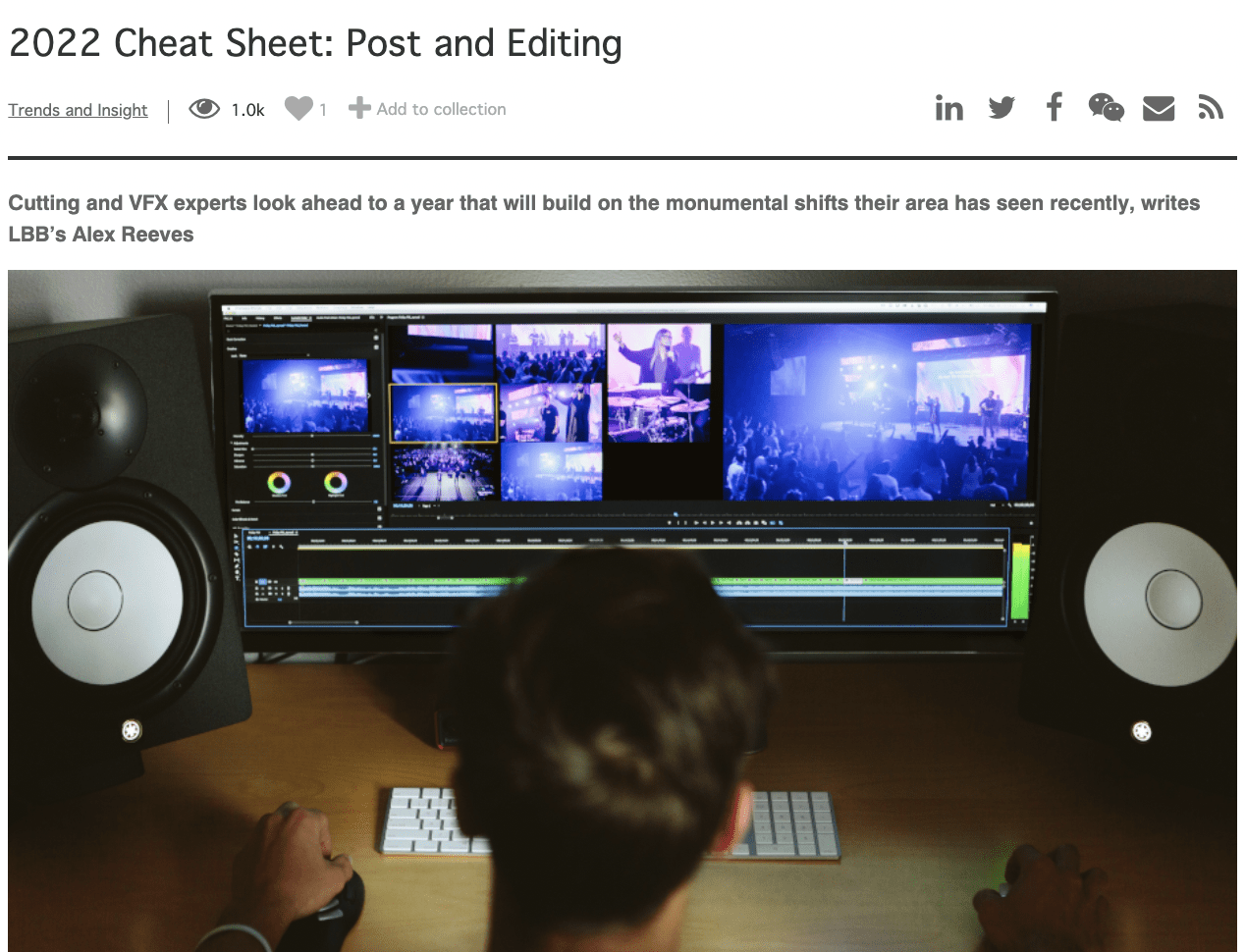 Back when the pandemic first plunged us all into the shock of living in 'unprecedented' times, one of the areas of the advertising industry that had the most to adapt to was the post production and editing part. A business that was used to being based in suites and at banks of powerful machines, plugged into the best internet connections money could buy, suddenly had to work out how to function from people's home offices, bedrooms and dining tables. Back then it was a shock.
As we enter a third year of the Covid-19 story arc, we're comfortable with doing pretty much anything that can be done remotely, remotely. And post and editing are changed for good.
That's just one theme that this area of the business is grappling with. We discussed this, along with other subjects like talent, technology and cultural tastes, with a selection of experts from post and editing.
Adam Marshall
Partner/editor, Whitehouse Post
The changes in technology in our industry over the last 15 years have been monumental. We have come a long way since Umatics and machine rooms, and are light years away from Steenbecks, but thankfully I'm not quite old enough to remember those. If you had told me as a young assistant that we would soon be storing dailies and sharing media with post houses from a big old cloud in the sky from the comfort of our own homes I would have scoffed and asked if we would be using hoverboards too. But here we are. And the benefits for both clients and editors are pretty amazing.
Our sister company Carbon is now a Cloud based company and the intention is for Whitehouse to follow suit in 2022. All media and projects for all the offices will be stored on the Cloud, or 'a gigantic hard drive!' It will allow us to work on any given project from anywhere in the world.  It will mean I can live stream my edit from my bedroom in NYC, complete with graded picture, minutes after the TK had been finished in LA. As the FX team's polished comps are updated to the cloud in Chicago, I can quickly swap out my Avid comps with theirs. During the working day the clients (wherever they are) can see their spots getting better and better. And who wouldn't love that, after all, it's almost as good as a hoverboard!
David Fleet 
Co-founder and executive creative director, VFX, Untold Studios
The past couple of years have been a rollercoaster. The pandemic brought a great deal of uncertainty with many cycles of drought and abundance. We've all had to adapt to deal with shifts in schedules, cancellations and last-minute changes due to the uncertain nature of the global market.
However, the upside is huge. It's extremely rare to experience a whole industry striving to innovate all at once. The result is a colossal shift in how work gets made. It really is amazing to see what can be achieved using cutting-edge remote workflows and a few hundred Zoom calls.
As for this year, I certainly don't expect (or even want) normality to resume. As clients become more comfortable with modern filmmaking techniques I believe that agencies and filmmakers will enjoy a significant upsurge in creative output.
The obvious example of changes we've been through is the wider adoption of cloud based technologies.
When we launched Untold Studios in October 2018 we were the first studio in the world to be fully cloud-based. By design our cloud technology infrastructure has meant that even when working in the studio, everyone is effectively working remotely. This proved to be a huge advantage when the pandemic bit. At a time when other studios were scampering to rapidly reinvent their workflows – it was business as usual for us. Without doubt the biggest advantage of going cloud based is being able to work with talent seamlessly from anywhere in the world.
Another area of growth is virtual production – many film studios are investing in giant LED volumes allowing the actors and cinematographers to make decisions in context. The days of shooting blind against a green screen are numbered and I am here for it!
We need to address the diversity imbalance in the industry. It is vital that we engage with underrepresented groups as a priority, building pathways where they don't currently exist.
We are seeing positive changes thanks to initiatives like ACCESS:VFX and We are Stripes, but we still have a long way to go. We have to do better, and the time is now.
At Untold we're constantly reviewing our practices and policies to make sure we're doing the best we can. We are transparent about our stats – they are published live on our website. Although stats don't tell the full story, I think it's a step in the right direction. It keeps us honest.
Chris Reinhart
SVP of post-production, DEFINITION 6
What made me fall in love with our industry is the speed at which it moves and, wow, has it changed since the start of 2021.
For one, the talent boundaries have been lifted. Geographic location is no longer such a factor in landing talent. No more hour-long train commutes to a post facility where your biggest operational challenge is running out of rooms. We are now editing projects at home.
And if there is one thing the Great Resignation has taught us as employers, it's that we need to be flexible to keep our talent. So, I believe strict schedules and forcing employees into offices is a thing of the past. The output should always take precedence over how and when we do the work.
Of course, increased flexibility means you need better communication and collaboration tools. Zoom has clearly become a tool I cannot live without. But what's next? Cloud editing solutions are becoming more common, each with its own unique advantages and disadvantages. Ultimately, a cloud-based shared storage system with local hardware for monitoring is what I would like to see.
Lastly, as more and more content providers get into streaming, post-production work will continue to skyrocket. Two genres to watch for disruptors will be children's and sports. In the world of marketing and promotion, we have also seen a huge increase in deliverables, as we need to make the content fit on all types of platforms.
So, there you have it. Flexibility, collaboration, and volume. All of this makes me optimistic and excited about what the next 12 months hold.
Lisa Houck
Managing director, Uppercut
2022 is the year we come together.
I'm proud of how good we've gotten at mastering the workflow and mechanics of how to work remotely, so what I'm gonna say next may seem surprising: I'm really looking forward to being able to work in offices and with teams again. Humans interacting in physical space!
Building and preserving a strong company culture is so important, both with our internal team as well as with our clients. It adds a level of trust and cohesion that you see in the work. We also recognise the importance of mentorship, which is far more effective in-person. So yes, I can't wait for those interactions to happen again.
A modern 2022 roster.
The pandemic brought so many opportunities for young creatives to rise to the occasion and show what they can do. There's a real openness to out of the box thinking. Finding ongoing opportunities to allow them to keep growing and flourishing is key.
For our more established editors, we are excited for them to continue to grow their relationships with their directors, DPs, and creative clients, to reconnect on a deeper level than remote sessions have allowed. We also know that each editor's market has expanded thanks to working remotely and want to ensure we keep all those new channels open.
Steve Mottershead
Creative director/owner, Artjail
As we enter yet another year with Covid lingering, we are feeling extremely lucky to be in an industry that can pivot and continue to safely function with a high level of productivity.
With the continued remote workflows, we have really focused on growing our staff team. Within the last year we have almost doubled in size at our NYC studio. Having a consistent team that is familiar with our clients, our style of work, and our custom pipeline has been extremely important in order to have projects continue to run smoothly. It's just inherently harder for freelancers to have this second hand as compared to the core team at least.
As an artist-owned boutique we've always strived for a better balance of work versus life, and these days, that mindset has really risen to the top. One of the recent cultural changes we've noticed is that studios, clients, agencies and our industry in general are collectively moving to be more respectful of people's time and wellbeing. Traditionally this objective has felt like a bit of an oasis, but it's great to see this move in the right direction.
Talent has never been so tight, so we need to continue to be flexible in order to retain and attract the best people. There is a lot of work out there, and not always enough top tier talent to accommodate everything. At Artjail we have always been a talent first shop and cared about our team with a healthy work life balance. We've made a point of being as flexible as we can with our team, so they feel rewarded and considered. We hold everyone accountable to get the job done at a high standard, and when people can take the foot off the gas pedal, and get some R&R we make certain that happens. We've built out a system to allow our team more flexibility over these times, and intend to continue that company ethos into the future. Another advantage we've enjoyed is the ease of adding global talent. It's never been this accessible and fast to spin up a global artist.
John Thornton
VFX supervisor, Rascal Post
We all sat on our pandemic islands and reassessed how and if this would change in the way that we work. Not long after it all began, there was a rapid development of cloud and remote working which has increased flexibility and allowed us to shape work into a new hybrid path which we are all trying to navigate. At Rascal we prize creativity and will use this new hybrid path to play, foster conversation, idea sharing to create many more chances of serendipity.
There have been huge advances made recently in real time rendering of CG. Once the assets are modelled and lit, one can render real time which is incredibly useful in being able to share and discuss concepts with each other and clients.  This permission to be more spontaneous encourages creativity greatly. Virtual production has come a long way too since I first played with it in 1999. It can easily substitute far off locations which may not be accessible because of a lockdown. The complete control over the environment and lighting also open up a huge playground only limited by our imagination.
Since the technology has levelled the playing field in so many ways, we are free to work in many more combinations and not feel hindered by geography. This has opened up Rascal to global collaboration and the only criteria for our talent search is creativity and fun.
Justin Brukman
US managing director and director of global new business, Final Cut
Our collective ability to continuously adapt while also producing high-level creative work reveals the incredible resiliency of our industry. Evolving to expect change at every point of the creative and production process has fundamentally shifted our mindsets. Beyond the immediate rewards, as we look forward this evolution shows us that planning for long-term growth is still possible, especially when we invite new perspectives to the table.
Looking ahead, I do hope we find more ways to connect in person. We are very practiced at digital collaboration and connectivity at this point, but I know there is something we get from in-person interactions that can't be duplicated elsewhere.
Remote technology has borne us through this pandemic, but there is a creative and cultural toll this is taking that is only being felt now. Don't get me wrong – remote workflow is here to stay – but how we successfully implement and adapt these technologies to support creative exploration, collaboration, and the culture that creates needs greater attention and care.
Nikolaj Belzer
Senior editor and MD, OKAY STUDIO
I feel there are two – more or less – significant changes from a business perspective over the past year or two. One is naturally the move into a more flexible (or 'remote' for lack of a better word) working set up. That goes for clients and staff equally. I think it's a big opportunity for us to work more effectively and more creatively – within certain boundaries given of course. Equally clients seem to be more open minded about the actual location of the post house, which with us being based where many creatives and clients live (East London) naturally plays in our favour.
Connected to that is a second point. Many people seem to have re-evaluated the way they work overall which includes who they work with. I feel this is a similar watershed moment as many technical developments that  lowered the boundaries for market entry significantly about a decade ago. Clients and artists tend to be more open to work with someone new after these past two years and they look at the work and people above all, instead of just continuing with the same old without asking the question if there is a better and more creative solution for them out there.
Technology is constantly evolving and it's up to us as post professionals to be ahead of the curve here. It feels that progression is happening exponentially rather than linearly – which makes sense looking at the way technology has developed over the last twenty years.
Looking at that speed is another argument for me to stay small, nimble and team up with young talent as much as possible.
I could say remote working and reviewing are changes but really these were around pre-pandemic. With everything tech it's the way we use these tools, and if they can serve us better for the way we'd want to work together creatively that makes the difference.
Above all, the most important thing for talent is to listen and treat people with respect, no matter how junior or senior they are. Yes, hierarchies are still important but the responsibilities that come with them are (more) mutual and always go both ways these days.
Everyone can learn a piece of software right now with a few tutorials. More than ever it's about work ethic, integrity, creative courage and being a team player on both sides of the ball.
Actually, it's always been about that. But it is now much harder to hide behind a piece of tech or a job title to cover up bad manners or lack of skill.  Employee and employer, head of department as well as junior operator, we all have to live up to the same standards no matter at which stage of our career to be successful as a team. Being more experienced doesn't mean one can be less caring, vigilant and ambitious when dealing with other team members, the opposite is the case and talents know that.
David Smith
Founder and CEO, Absolute
As a company, we have always strived to create a friendly, transparent and team-spirited environment for our talent to flourish in. Obviously, remote working has made this trickier – new starters are signing in from home and it's far harder to build upon these relationships.
Covid has resulted in an industry-wide dilution of company culture these past two years. Therefore, rather than technological advances, our biggest priority for 2022 is our staff. We look forward to somewhat of a return to office working – and a definite return of consistency, collaboration and camaraderie Absolute has become lauded for.
David Goodman
VP of film & episodic, Assembly
Obviously, Covid has completely changed the industry's stance on remote workflows… For years, Studios and Networks were stricken with fear around security issues that were quelled by "on prem" security measures (TPN etc…) but the moment the world went into Lockdown (March 2020) that all went down the drain.  Every vendor has put a lot of thought and R&D into making the remote workflow experience as tolerable as possible.  I think we all believed that we would see a slow migration back to "brick and mortar" editing facilities in the  Q1 and Q2 of 2022 but Omicron has stalled that enthusiasm…  Whatever the time frame is, the remote workflow is here to stay in some shape or form… I think we'll see multiple forms of hybrid workflows be it completely remote, fully back to on-prem, and some combination of both.  As long as there is production, we will provide post production wherever it needs to be.
The first answer is that "tech support" is based on solving issues / problems when they occur.  You don't know how to fix something until you are presented with the situation.  That is precisely how many of the workflow changes have come about during the last two years.  A lot of the technology was already there, we just needed to get into the lab and figure out which pieces fit into which holes. Now, there are some great things to come out like the whole "camera to cloud" phenomenon, the different streaming options, and more stable/secure remote connections. And we're still creating better options for more bandwidth and better security.
As a new company, we are building from the ground up, so have the luxury to capitalize on building workflows and systems with whatever latest technology works best.  We are not weighted down by three year old hardware and antiquated workflows.  And we have the ability to continue to bring in talent that understands today's issues.  Our infrastructure is built on where the industry is going, not where it's been… but we bring our decades of experience of problem solving and serving the community into this new era.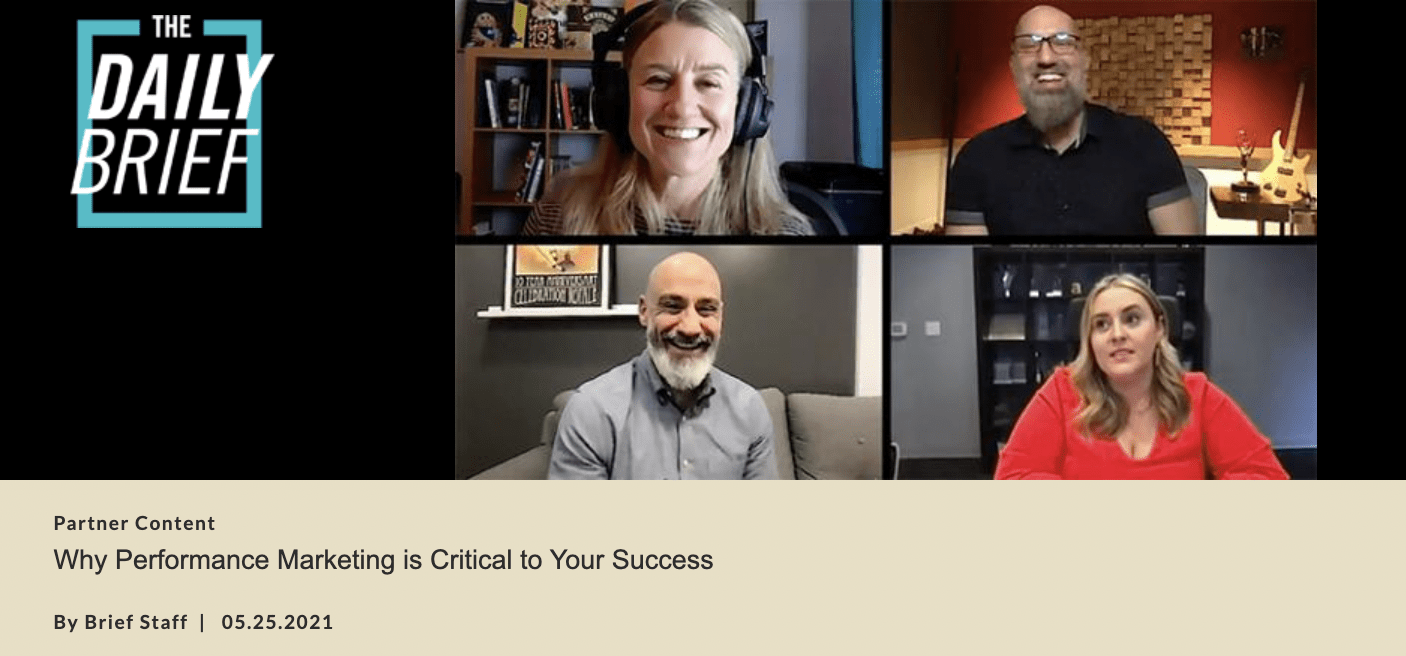 Whether you call it performance, acquisition or behavioral marketing, marrying data to creative is now a critical function that all entertainment services must practice, whether they're a nascent streamer, linear network or full-fledged digital platform.
Fine-tuning the process of wringing the most value out of content is what customer experience agency Definition 6 does all day long, sifting through the data to tell a story that in turn gets the best results for its brand partners, whether they work in entertainment or not.
Definition 6 President Jason Rockman, Senior Vice President and Group Creative Director Doug Dimon and Senior Analytics Manager India Christie (also henceforth known as Data Storyteller—listen in to learn why) join Promax Editorial Director Paige Albiniak to discuss the ins and outs of performance marketing, focusing on the growth and efficiency this methodology gains for brands.
Tune in to hear the entire conversation here.
Subscribe to The Daily Brief Podcast on Apple Podcasts, Google Podcasts, Podomatic, Spotify or wherever you get podcasts for newsmaker interviews, in-depth conversations and creative insights.

Just in time for the festive season, newly formed company GAC Media rebranded and relaunched two networks with an assist from Atlanta- and New York City-based Definition 6 (D6).
GAC Media—which is owned by Dallas-based Hicks Equity Partners and Bill Abbott, former CEO of Crown Media—acquired Great American Country (GAC) from Discovery and equestrian channel Ride TV from private holders to form GAC Media in July. The partners are now rebranding GAC away from its country roots to focus on wholesome family and lifestyle programming with GAC Family and GAC Living. Both channels, which debuted Sept. 27, have an emphasis on holidays and celebrations and in particular, Christmas.
GAC Family, formerly Great American Country, premiered with its new tagline "Stories Well Told," encapsulating American culture, lifestyle and heritage with original holiday-themed, family-friendly movies and series. GAC Living, formerly Ride TV, uses the slogan "Life Well Lived," and serves as GAC Family's unscripted companion full of lifestyle, decor and cooking shows.
Led by SVP and Creative Director Crystal Hall, D6 developed the creative strategy and visual brand identity for the new GAC family of networks, working closely with Abbott, who conceived the brands as opportunities to share timeless and entertaining programming.
"The D6 team approached this ambitious project with a tremendous amount of enthusiasm and successfully brought our brand vision to life for our new flagship networks," said Abbott in a statement. "Fan feedback has been incredible, and we look forward to using this momentum to launch our original slate of family-friendly Christmas programming this holiday season."
D6 was tasked with visually and tonally articulating two distinct entertainment brands in GAC Family and GAC Living. The agency also was asked to reinforce the larger GAC Media brand's dedication to creating family-friendly content across multiple genres and touchpoints. Deliverables included network logos, mnemonics, on-air graphics packages, a launch promo campaign and websites.
"We wanted the brand identity of each network to express a sense of family, joy, and togetherness in their own unique ways, making the viewer feel at home, whether they are tuning in or engaging with GAC content and talent online," said Hall, also in a statement. "As both GAC Family and GAC Living hang their hats on the celebrations that bring families together, we future-fitted these brands so they could evolve with the seasons in a unified way."
For the channels' new logos, D6 landed on circular concepts alluding to themes around family and home. Designed with matching lock-ups, the GAC Family and GAC Living logos both feature an encircled GAC brand stamp in a lower-case script font called Vadelma by Melvastype. The words "Family" and "Living," respectively, are oriented to the right using the same typeface.

Categories: Partner Content
In preparing for the future of entertainment marketing, understanding the difference between personalized experiences and individualized experiences is more paramount than ever. Individualization comes down to more than addressing the consumer—it's about demonstrating that you understand them on a more granular level. Data and informed creative are our greatest assets when you need to individualize the customer experience.
RELATED: Definition 6 Takes Viewers Home to New GAC Channels
What Individualization Means for the Future of OTT
When I stream Netflix, for instance, I am getting recommendations based on algorithms that analyze what I've watched. But what about shows I started to watch yet opted out of? Deep data analysis—asking why I opted out—is a perfect example of what a smart individualization strategy looks like. If you know why the consumer took action, then you'll better understand what content to serve up next. At its core, this is the difference between personalization and individualization.
What Streamers Can Learn from the Retail Script
Online retailers are more advanced at individualization than other verticals. If I abandon a shopping cart on Amazon, for instance, they are savvy at re-marketing the products I was looking at, as well as introducing alternative products. That's the advantage of ecommerce compared to an abandoned shopping cart in a physical store where zero clues are left behind.
Considering the amount of time people spend on streaming platforms versus linear broadcast, my opinion is that streaming companies and their marketing and content creation partners need to think about the relationship between platform and viewer in a more intimate manner than they are today, and that relationship needs to be more symbiotic. We know these platforms are already providing value to the customer, but the next challenge is: how can they obtain more behavioral information and leverage it in a way that makes the most of their relationship with viewers?
RELATED: Why Performance Marketing is Critical to Your Success
Rally Behind Your Data Like an Academic
Once you've got the foundational elements of data-mining in place, building out a comprehensive testing program will help you individualize the customer experience. Succeeding in this phase ultimately comes down to staffing and organizing analytics teams that take an academic-like approach to analyzing data and market segmentation with a future-forward perspective. By this, I mean it's not always about what your analytics team is hyper-focused on right now. Think ahead to secondary and tertiary data explorations and how they fit into the big picture of all your findings.
That's ultimately what we do at Definition 6. We strategically assemble teams to build out the best possible business case for our clients. The deep analytics work we do informs our strategy, how to best to execute it, and lastly, how we measure and optimize it. It's a dynamic, experimental process. The ones who do it best are always learning and augmenting by constantly asking what works best and what isn't working.
Technology and data continue to empower us to not only understand and engage with consumers in powerful ways, but also to make their experience with brands more seamless. Consider how technology has evolved customer service. While ecommerce platforms like Amazon made shopping easy, 10 years ago there were still some growing pains shepherding consumers from calling for help versus how it's handled now via chat. Nowadays, that process is tremendously personalized and has matured into unprecedented business practices when you consider Amazon's "don't send it back" policy. Essentially, Amazon saw the big picture with this policy from the viewpoint of both their bottomline and customer retention—the cost of returning a product versus the convenience of letting the customer keep the product in error and sending a new one.
Humanize Your Data with Creatively Driven Calls-to-Action
Of course, you have to be cross-functional with data and technology. Meaning that having a creative team that can build on it with a human touch through elements of design, storytelling and experiences. This is why quality content is such a huge driver in the equation. Whether you're in streaming, broadcasting, or trying to fill seats at the movie theater, you can't simply rely on having the next great show. You have to communicate the value and give viewers a reason to watch. You have to make your call-to-action not only exciting, but also intuitive to the individual.
Customer Retention is the End-Game
I believe that brands are just tapping into the potential of what data can do in achieving this—whether it's building out more robust data-driven systems for developing interfaces and creating user profiles, or making them more entertaining through elements of education, gamification, and loyalty programs with incentives. Ultimately, subscriptions will plateau and the game will be customer retention and win-backs. So let's put on our data hats and get creating.
Jason Rockman is the president of Definition 6, an award-winning customer experience agency based in Atlanta, New York City and San Francisco.